To all Participants
of the
Halloween Graphics Competition
On behalf of Women with Integrity
We would like to thank all
our participants and congratulate
you on your endeavors.

We believe those of you who took
in the Halloween Competition are all winners.
Our most sincere thanks
go to all of you.
Thank you
Please accept this Participation Award.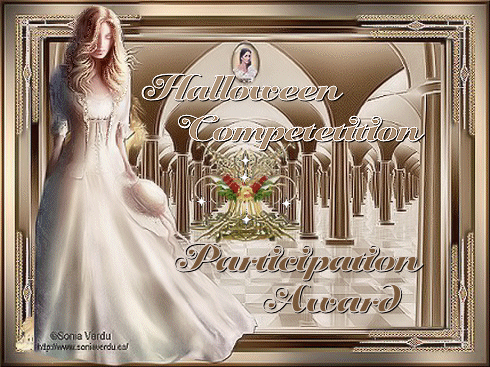 Once again thank you Ladies for the wonderful spirit
of companionship and creativity.
Congratulations one and all:

Many thanks go out to our Judges,
Rosalys, Kaedee and Peter.

You have had a difficult task and
we sincerely thank you for your time
and your judgement.
To our Winners and all Participants
Congratulations one and all, it is with Members
such as yourself, that make it all worthwhile.
We would like to take this opportunity
to wish you & yours
a very scary Halloween.


May the night bring you
Good fortune,
with Happiness & Blessings
thrown in for good measure.

Management of WWI